Based on the archetypes found in ancient mythology (mostly Grecian), Schmidt has created forty-five models "for creating original characters." Included are fifteen feminine and fifteen masculine archetypes, as well as fifteen secondary character models. The personalities range from Artemis the warrior and Hera the mother to Hades the hermit and Zeus the ruler.
Each archetype (with the exclusion of the supporting characters which are grouped into three chapters) is described and analyzed in an easily scanned chapter. Fears, dreams, goals, and motivations are listed, along with a glimpse into the "Hyde side" of each character's personality. Each entry concludes with a list of movies, television shows, literary works, and historical instances in which the archetype may be recognized.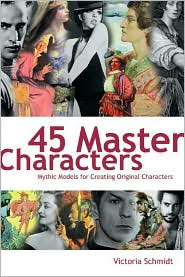 Although interesting, I felt it would be difficult for an author to allow the archetypes to form the basis of characters when writing. The book might be better used as a reference point to ensure uniformity in an already existing character's personality.
However, if for nothing else,
45 Master Characters
is worth perusing just for the sake of the last two chapters which provide detailed outlines of both the feminine and masculine journeys.