Review of My Father's Keep by Ed Abell
Create Space, Jan 2014
ISBN: 9781494367381
Ebook 4.49
Pbook 10.16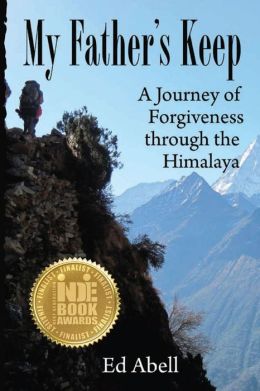 An Inspiring Journey of Forgiveness and Promise-Keeping


At once a trek to the highest peak on Earth and the deepest place of the heart,

My Father's Keep

captures the experience that all adult children share: the pain and suffering of growing up in the chaos of alcoholism and the dogged belief that they can—and must—somehow save their afflicted parents from their torment. As that child, Ed Abell vows that one day he and his father will see the Himalaya together—a vow he kept twelve years after his father's death.



My Father's Keep

is a story of hope for healing of our most complicated family relationships through understanding, compassion, and forgiveness, peace for ourselves despite our inability to save our loved ones from the ravages of addiction, and strength for the arduous yet enriching journey.
My review:
There is so much more work involved in forgiveness than simply saying the words.
Acceptance is a part of forgiveness that involves empathy, but to truly understand you must experience and survive the experiences that necessitates the forgiveness. Abell shares this gift of forgiveness through an incredible journey that is both a loving tribute and a triumph of a gift to memory.
This short book packs a full trip from childhood through marriage and family to the time when the author is finally ready to attempt a journey of laying his father's ashes to rest in a "place the Sirens could not win." A huge part of forgiveness also involves recognizing and savoring the good times with the bad of a lifetime of abuse--in this case, alcoholism--which colored the author's world. Although offering understanding, love, and forgiveness to his father while still alive, Abell never gave up believing he could put his father's ghosts to rest. This book is that journey.
I applaud the author's beautiful, intelligent story of vulnerability and sacrifice. My Father's Keep is part memoir, part tribute, part caution to those of us who struggle to escape the effects of addiction. Abell says it well: love is action.